---
COFFEE COUNTY SCHOOLS
"Educating Productive Citizens"
The mission of the Coffee County School System is to provide its students with the skills necessary to become well-rounded, productive citizens. To ensure this, the system will provide a challenging curriculum presented by a dedicated staff in a safe, clean, and stimulating environment.
Therefore, we feel the responsibility for educating young minds must be shared among parents, educators, and the student himself. The learner will benefit when there is a clear understanding of each participant's role in the educational process. But, the learner will suffer if any person fails to take that responsibility seriously.
---
School Begins Wednesday, August 12, 2015 in Coffee County!
For Information on Start of School Events Click on Your School
NEW BROCKTON ELEMENTARY SCHOOL
---
SCHOOL PERSONNEL ANNOUNCEMENT
Thursday, August 6, 8:00 a.m.
Administrators, teachers, guidance counselors, media specialists, aides, and nurses will report to the Central Office in Elba for Teacher Institute.
CNP staff, secretaries, bookkeepers and custodians will report to their respective schools.
Friday, August 7, 8:30 a.m.
Bus Drivers will report to the Central Office in Elba.
---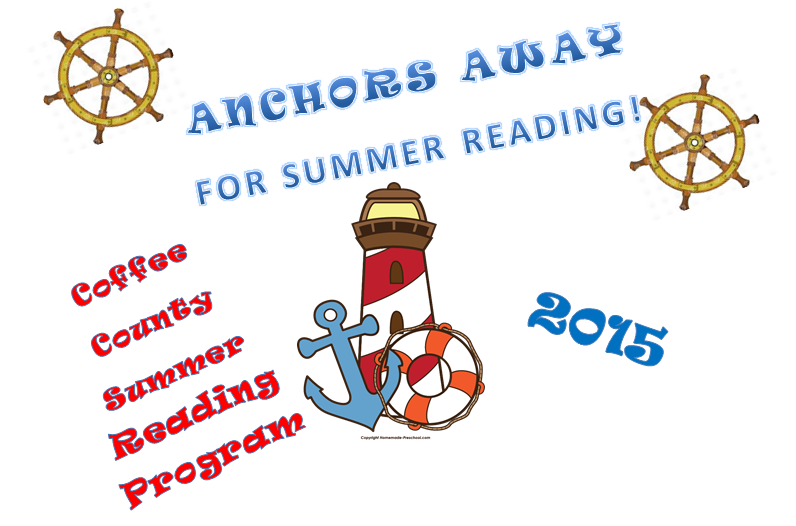 COFFEE COUNTY SCHOOL SYSTEM
SUMMER READING PROGRAM 2015
Dear Parents, Guardians, and Students:
All students enrolled in grades 7-12 for the 2015-16 school year are required to read at least one book over the summer. Students enrolled in the Honors track in grades 11-12 are required to read at least two books. A list of books for students to choose from is attached. Students are expected to choose books from the grade level they will be entering in August 2015. Students will be tested on the book(s) read during the first week of school in August. The tests will be averaged in the first nine weeks English grades.
Information about the summer reading program for students is included in this packet.
Parents are encouraged to review this packet thoroughly with their children, research the books on the list, and help the child choose an appropriate book (based on content and difficulty). The reading levels of the books vary and the content of some may require parental discretion for some parents and students.
Also, please remember that summer reading is a requirement for all students in grades 7-12 enrolled in the Coffee County School System. All readings must be successfully completed by the due dates.
After reviewing the enclosed information, please contact the school with any questions you may have. We appreciate your support of our summer reading program. Have a great summer!
This document will be located on the Coffee County Board of Education website at www.coffeecountyschools.org.
COFFEE COUNTY SCHOOL SYSTEM
SUMMER READING PROGRAM 2015
What is the purpose of the Summer Reading Program?
The Coffee County Schools Summer Reading Program is designed to promote year-round learning and the reinforcement of reading skills. Reading over the summer break exposes students to the classic novels and helps students exercise reading comprehension skills. Summer reading enables the student to maintain or improve his or her reading ability before entering the next grade level. The program is also designed to better prepare students for entrance into college, as well as improve scores on standardized tests such as: the ACT, ACT Aspire, Explore, Plan and WorkKeys.
What do I do?
Select a book(s) from the list enclosed. Contact your English teacher if you have any questions about the assignment.
How do I obtain a book?
Students are responsible for obtaining their own summer reading books. Many books can be ordered or purchased "used" through www.amazon.com and local book stores such as Books-a-Million or Barnes & Noble. Some of the books are available for download on e-readers, such as the Nook and Kindle Fire. Students are also encouraged to utilize their local libraries.
Originality and Plagiarism
Students will complete their own work. Students who rely on someone else's work or ideas as their own risk failure of the assignment(s) and disciplinary action.
Due Date: Books must be read by August 12, 2015
Note: The Coffee County Summer Reading Program is based on information from teachers at Kinston High School, New Brockton High School and Zion Chapel High School.
COFFEE COUNTY SCHOOL SYSTEM
SUMMER READING PROGRAM 2015
Seventh Grade
Tuck Everlasting - Natalie Babbit
The Devil's Arithmetic - Jane Yolen
Holes - Louis Sachar
Pictures of Hollis Woods - Patricia Reilly Giff
The Forbidden Schoolhouse - Suzanne Jurmain
Becoming Joe Dimaggio - Maria Testa
Ancient Voices - Kate Hovey
The Underdogs - Mike Lupica
Shakespeare Stealer – Gary Blackwood
Clemente's Dream – Jefferson Spurlock
Eighth Grade
Missing May - Cynthia Rylant
A Tree Grows in Brooklyn - Betty Smith
So Yesterday - Scott Westerfeld
The Watcher - James Howe
The Cay - Theodore Taylor
Red Badge Of Courage - Stephen Crane
A Soldier's Heart - Gary Paulsen
The Outsiders - S.E. Hinton
Fever 1793- Laurie Halse Anderson
Ninth Grade
If I Stay – Gayle Foreman
Journey to the Center of the Earth – Jules Verne
A Connecticut Yankee in King Arthur's Court – Mark Twain
Raven's Gate – Anthony Horowitz
The Secret Life of Bees – Sue Monk Kidd
Stealing Home – Shawn Durkin
Eragon– Christopher Paolini
The Adventures of Huckleberry Finn – Mark Twain
Invisible Man – Ralph Ellison
The Three Musketeers – Alexandre Dumas
Tenth Grade
The Book Thief – Markus Zusak
My Sister's Keeper – Jodi Picoult
Winesburg, Ohio – Sherwood Anderson
The Good Earth – Pearl S. Buck
The Stranger – Albert Camus
Alice's Adventures in Wonderland – Lewis Carroll
Rip Van Winkle – Washington Irving
The Legend of Sleepy Hollow – Washington Irving
The Adventures of Huckleberry Finn – Mark Twain
The Fault In Our Stars – John Green
Eleventh Grade
The 7 Habits of Highly Effective Teens – Sean Covey
Into The Wild – Jon Krakauer
The Grapes of Wrath – John Steinbeck
Having Our Say: The Delaney Sisters' First 100 Years – Delaney, Sarah and Elizabeth
Coming of Age in Mississippi – Ann Moody
The Portrait of a Lady – Henry James
Catch 22 – Joseph Heller
A Streetcar Named Desire – Tennessee Williams
As I Lay Dying – William Faulkner
The Autobiography of Miss Jane Pittman
The Things They Carried – Tim O'Brian
Twelfth Grade
Oliver Twist – Charles Dickens
Pride and Prejudice – Jane Austen
A Tale of Two Cities – Charles Dickens
Emma – Jane Austen
Grendel – John Gardner
Wuthering Heights – Emily Bronte
Robinson Crusoe – Daniel Defoe
The Good Soldier – Ford Maddox Ford
48 Days To the Work You Love – Dan Miller
The 6 Most Important Decisions You'll Ever Make – Sean Covey
---
---
Prevention of Harassment
The Coffee County Board of Education prohibits harassment against any employee based upon race, color, religion, gender, age, ethnicity, national origin, marital status, disability, political or religious beliefs, or social and family background. As outlined in Board Policy 3.31: Prevention of Harassment, employees, whether victim of or witnesses to sexually offensive language or action, shall report such offensive language or action to the individual or individuals designated in the policy. Additionally, employees may report to any supervisor, if they so choose. However, notice to any supervisor does not relieve the employee from reporting to the individual or individuals designated in the Board's sexual harassment policy. Please select the following link to view Board Policy 3.31: Prevention of Harassment